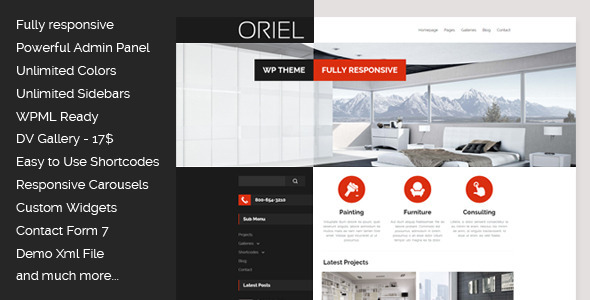 ORIEL is business WordPress theme designed specifically for interior design, interior decoration, architecture, remodeling, renovation, engineering companies. It is also a multi purpose WordPress Theme.
Theme Features
Fully responsive and clean design
Powerful Admin Panel
Unlimited Color Combination
Premium DV Gallery Plugin is Included – Save 15$
Unlimited fullscreen Responsive & Touch-Friendly image and video galleries
Unlimited Sidebars
Custom Widgets
Full width responsive slider
Touch enabled responsive carousels
Responsive accordions, horizontal and vertical tabs
Compatible with WPML Plugin
Compatible with Contact Form 7 Plugin
Compatible with SiteOrigin Drag & Drop Page Builder
Compatible with ECWID.Ecwid is a powerful and easy-to-use shopping cart solution that allows you to sell on your WordPress website.
Touch enabled responsive carousels
Lots of Easy to Use Shortcode with Shortcode Generator
Custom projects post type with category support
Unlimited sliders with custom slider post type
Valid HTML5 / CSS3
Demo XML File is included
Awesome Jquery and CSS3 Animations
Flickr Feed
Compatible with WordPress 5.x and Gutenberg
Detailed help documentation
Cross Browser Support
and much more…
Update History
Version 1.8 June 05th, 2023

General bug fixes

Version 1.7.1 August 13th, 2020

WordPress 5.5 Compatibility

Version 1.7 May 27th, 2019

Added SiteOrigin page builder to the theme package
Changed next/prev navigation with numeric navigation
Added responsive WordPress oEmbed video support
Updated language file
Updated demo xml file
Updated help documentation
CSS fixes

Version 1.6.1 April 03th, 2019

Fixed testimonials carousel display issue

Version 1.6 February 22th, 2019

WordPress 5.x compatibility 
Gutenberg compatibility 
Updated DVGallery plugin
Bug fixes

Version 1.5 April 16th, 2018

Upgraded Nerveslider to the latest version
Updated Ecwid files
Fixed some css bugs
Redesigned comments field

Version 1.4 March 17th, 2017

Updated DV Gallery plugin
Updated jquery colorbox plugin
Updated theme settings
Updated CMB2 in Oriel Features plugin

Version 1.3.4 November 20th, 2016

Fixed dropdown menu animation issue which appeared on the latest version of Chrome (Windows)

Version 1.3.3 August 19th, 2016

Updated Google web font settings (For more information, please read the help documentation after the update)
Updated tgma plugin activation

Version 1.3.2 March 22th, 2016

Added css editor to the theme settings 
Added theme settings link to the WordPress top bar 
Fixed a layout issue on theme settings on Safari 
Added RTL support to the theme settings 
Fixed a tabs shortcode issue

Version 1.3.1 January 9th, 2016

Fixed a conflict between the theme and Ecwid Shopping Cart plugin (shortcodes) 
Updated only Oriel Features plugin

Version 1.3 January 8th, 2016

From this version Oriel is fully compatible with Ecwid !
Added new options to the theme settings for Ecwid 
Fixed wordpress tag cloud widget styling issue (WP 4.4) 
Updated help documentation and language file

Version 1.2.6 November 12th, 2015

Upgraded DV Gallery plugin to the latest version (1.6)

Version 1.2.5 November 9th, 2015

Fixed a number input validation issue on the theme settings

Version 1.2.4 November 7th, 2015

Redesigned and improved the theme settings page

Version 1.2.3 – November 3th, 2015

Fixed oriel features plugin activation issue

Version 1.2.2 September 18th, 2015

Updated only DV Gallery plugin;
DV Gallery 1.5
Updated LightGallery plugin to the latest version 
Added new options to the plugin settings page 
Compressed custom css codes 
Improved gallery loading performance on mobile devices

Version 1.2.1 September 15th, 2015

Updated only DV Gallery Plugin; 
DV GALLERY 1.4 
Updated wookmark plugin (image grid) to the latest version 
Improved page loading performance 
Improved plugin settings page design 
Added image grid "align" option to the plugin settings 
Fixed wpml plugin category issue

Version 1.2 August 22th, 2015

Fixed an issue on the full-width page templates (Edited only header-fullwidth.php file)

Version 1.1 August 21th, 2015

Improved theme settings page design and functionality 
Removed custom favicon option from theme settings (Supported WordPress 4.3 site icon feature) 
Updated language (.po) file of the theme

Version 1.0.4 – June 11th, 2015

Fixed a few bugs in includes/styles-template.php file

Version 1.0.3 – June 8th, 2015

Fixed slider navigation z-index problem 
Fixed an issue on single project page image carousel

Version 1.0.2 – May 20th, 2015

Fixed scrolling issue on homepage slider on touch devices ( Updated only Oriel Features plugin )

Version 1.0.1 – April 24th, 2015

Updated includes/class-tgm-plugin-activation.php file (XSS vulnerability)

提示:这篇文章发布于 2023/06/17,作者 99839,总计 4001 字.