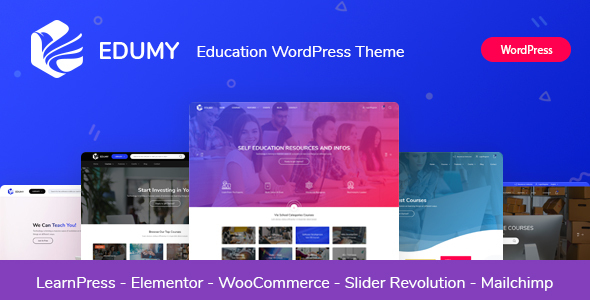 Edumy – Education WordPress Theme For education, school, college, institute, university, online learning, training and kindergarten is a premium WordPress theme, well created, especially for education, school, college, institute, university, online learning and training business website. It comes with necessary features such as course post type and course search which allows student to search through courses. If you are looking for a great education WordPress theme that can help you build a great website with dozens of features and demos for you to choose from, Edumy is the best choice for you.
Features
LearnPress LMS WordPress Plugin
Built-in Drag & Drop Page Builder: Elementor
Course Creation and Management
Event Management
Easy to use and customize
Fully responsive with Retina ready: Beautifully display your website with any device.
Google Font support: It's your choice to select between 600+ Google Fonts
Unlimited colour options
One click installer
WordPress 5+ Ready
8 home pages layout
WooCommerce 3.6+ Ready
WPML supported
Fully Responsive, your website will works on almost device
Powered by Redux framework, bring to you unlimited color and Google fonts options
Products carousel, latest posts carousel
Grid view and list view for shop page
Multiple blog layouts for your choice
Box layout and full width layout
Sample background images
Color presets included
Header layouts
Suitable for the fashion, digital, furniture shop
Social icon links
Error 404 page included
Sample content available to help you build your website with demo content
Updates History:
Version 1.2.17 - 22 May 2023

* Updated woocommerce
* Updated PHP 8

Version 1.2.16 - 10 March 2023

* Updated woocommerce

Version 1.2.15 - 31 January 2023

* Updated woocommerce
* Updated Elementor

Version 1.2.14 - 16 December 2022

* Updated woocommerce

Version 1.2.13 - 07 November 2022

* Updated woocommerce

Version 1.2.12 - 27 September 2022

* Updated woocommerce

Version 1.2.11 - 21 July 2022

* Updated theme style
* Updated learnpress latest version 

Version 1.2.10 - 04 July 2022

* Fixed php error

Version 1.2.9 - 05 May 2022

* Updated reviews
* Updated course level

Version 1.2.8 - 07 April 2022

* Updated course style
* Updated learnpress

Version 1.2.7 - 07 April 2022

* Updated course price

Version 1.2.6 - 26 February 2022

* Updated Elementor

Version 1.2.5 - 26 February 2022

* Updated LeanPress
* Updated reviews, comment

Version 1.2.4 - 05 January 2022

* Updated Tabs
* Updated single course page

Version 1.2.3 - 22 June 2021

* Updated LearnPress

Version 1.2.2 - 16 June 2021

* Updated LearnPress

Version 1.2.1 - 01 June 2021

* Updated LearnPress

Version 1.2.0 - 13 May 2021

* Updated LearnPress 4.0

Version 1.1.7 - 26 April 2021

* Updated Elementor

Version 1.1.6 - 15 April 2021

* Updated WooCommerce

Version 1.1.5 - 01 October 2020

* Updated wishlist page

Version 1.1.4 - 21 August 2020

* Updated WooCommerce 4.4

Version 1.1.3 - 14 August 2020

* Updated video display
* Fixed javascript error

Version 1.1.2 - 10 July 2020

* Updated WooCommerce 4.3

Version 1.1.1 - 08 July 2020

* Updated responsive style

Version 1.1.0 - 16 June 2020

* Updated the theme style
* Fixed co-instructor

Version 1.0.17 - 23 May 2020

* fixed admin error JS

Version 1.0.14 - 07 April 2020

* Updated custom style
* Updated event list

Version 1.0.13 - 19 March 2020

* Updated WooCommerce 4.0

Version 1.0.12 - 31 January 2020

* Updated WooCommerce 3.9

Version 1.0.11 - 25 November 2019

* Updated import demo data

Version 1.0.10 - 14 November 2019

* Updated WooCommerce 3.8

Version 1.0.9 - 13 August 2019

* Updated WooCommerce 3.7
* Updated import demo data

Version 1.0.8 - 02 August 2019

* Fixed buy course in mobile

Version 1.0.7 - 02 August 2019

* Fixed single course sidebar in mobile
* Improved responsive

Version 1.0.6 - 01 August 2019

* Fixed Vertical Megamenu
* Improved change color

Version 1.0.4 - 26 July 2019

* Updated megamenu
* Updated wishlist icon

Version 1.0.3 - 25 July 2019

* Fixed megamenu fullwidth

Version 1.0.2 - 24 July 2019

* Fixed register user

Version 1.0.1 - 23 July 2019

* Updated responsive
* Updated demo import

Version 1.0.0 - 22 July 2019

* First release

提示:这篇文章发布于 2023/06/02,作者 99839,总计 3467 字.