Volt theme for WordPress is designed for magazine, news and editorial ventures. With content and readability being the primary goal, the theme is designed with flexible layout pattern and decent space for advertisements. The theme introduces a layout swapping option that will let you move the content in desirable location, and is helpful when you are experimenting with visual hierarchy and user eye pattern. Backed with custom widgets, visual short codes, exclusive widget areas and custom page templates, the theme is envisioned to provide you more flexibility and ease-of-customization for your next editorial project.
Screenshots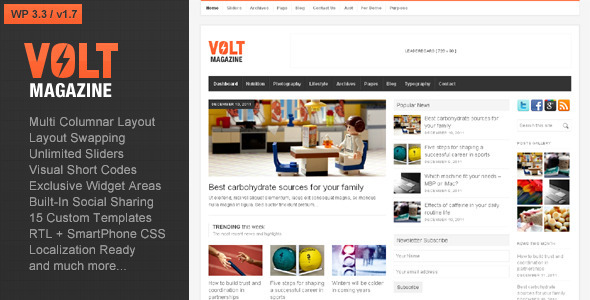 Features
Clean design, WordPress 3.3 Ready
2 Theme Formats (one with timthumb, and another with WP Thumbnails)
Supports Languages with RTL orientation. (rtl.css included)
Mobile version of CSS included for SmartPhones (Portrait + Landscape).
3 Layout styles
– Three Columnar: 460px content + 300px Sidebar A + 140px Sidebar B
– Two Columnar: 620px content + 300px Sidebar A
– Two Columnar: 780px content + 140px Sidebar B
Layout swapping for content area and sidebars
jQuery Cycle Slider via short code (Available in 3 sizes with unlimited usage)
Slider and Post Short Codes via selective category, posts, or pages. Check Options
Content driven Home page. i.e. The sidebars will use widgets, whereas the content area can be populated using short codes and custom markup. (The home page slider, post lists, etc are populated using visual short codes). You can create as many such pages as you require.
Two jQuery powered multi level dropdown menus (supported via WP 3 .0+ Menus)
Built in social sharing buttons for single posts (Facebook, Twitter, GooglePlus, StumbledUpon and LinkedIn). You can hide or show them individually via theme options panel. (No plugin required).
Inline advertisement areas for single posts. (Can be set global for all posts, or can be set individually per post). Short codes supported in these advertisement areas.
7 widget areas (one for the header, two for sidebars and four in footer)
Exclusive widget area usage per page and post. (Create new widget areas from pages and use them on page or post)
WP custom background
5 color schemes for navigation menu
Visual short codes with options panel
15 Custom page templates for archives and different sidebar pages (Unlimited usage)
Simple theme options panel
Custom page and post options panel
10 custom widgets (flickr, twitter, social icons, mini slider, content slider, recent posts, popular posts, recent comments, custom categories, mini folio)
Built in ajax/php contact page template with form validation
Built in style support for contact form 7 and WP pagenavi plugin
Single post features include author bio, related posts and 5-level threaded comments with gravatar support
Inline advertisement blocks for single posts. Managed via post options panel
Style elements like accordion, tabs, toggle, notification boxes etc.
PrettyPhoto image display
Timthumb image resize for images
Language localization support (Sample .po and .mo files included)
Sample dummy data in .txt and .xml format for easy setup. (Individual xml for pages, posts and all content)
Step-by-step guide and detailed documentation for theme installation and configuration
Supported on all major browsers
Javascript fallback functionality (All JS effects degrade gracefully upon non-availability of javascript).
Demo & Download
① 如果您发现本文件已经失效不能下载,请联系站长修正!
② 如普通下载链接失效,请尝试使用迅雷,旋风等下载工具下载!
③ 部分网盘的资源,需要安装其客户端工具才能下载。
④ 本站所有下载资源收集于网络,只做学习和交流使用,版权归原作者所有。
提示:这篇文章发布于 2012/04/01,作者 99839,总计 2971 字.