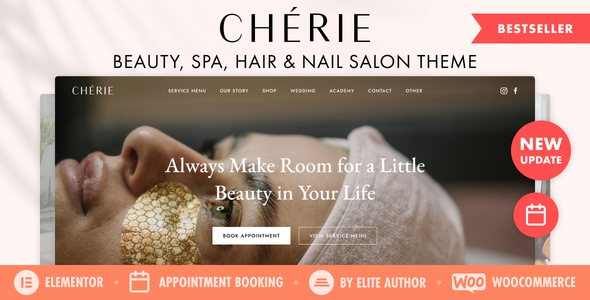 Chérie is Beauty, Hair, Nail, Spa Salon & Cosmetic Shop theme for WordPress. The Chérie WP Theme is perfectly suitable for any kind of beauty salon, beauty school, courses and cosmetic shop.
Features
Compatible with Elementor Page Builder plugin.
Compatible with multi-languages plugins: Polylang plugin and WPML plugin.
Elementor Page Builder
Building beautiful pages has never been easier. Explore the visual Theme Builder and customize any block of your website easily
One Click Demo Import
Great plugin by which you can import the theme demo content, and widgets with just one click.
Clean and Fully Responsive Design
Chérie WP Theme looks great on all devices.
Created for Mobile First World
Theme mobile version is specially designed to provide the best UX and indexing. And your website will look fabulous on any device.
Four Beautiful Demos
Beauty Salon
Nail Salon
Hair Salon
Spa Salon
Retina Images and Icons
Everything looks sharp on retina displays.
Gift Cards
Gift Cards are convenient and increase sales organically. the WooCommerce Gift Cards plugin makes it easy to sell gift cards to your store. So easy to get started, you can be selling gift cards for your WooCommerce store in 5 minutes!
Starter Child Theme for advanced customization
BoxZilla Popups
Beautiful and fully customisable popups: promote your services, gather emails, collect contact information
to provide personalised services to your customers.
WooCommerce
Sell anything: From physical products and digital downloads to subscriptions, content and even appointments, you can sell anything with WooCommerce. Categories, tags and attributes make products easier to find. Show customer feedback directly on the product page, set the currency, language and measurement units (inches, centimeters or anything else) that's right for you. Let customers sort products by popularity, newness, rating, price or attribute to find the right fit. Built-in payment processing from leading providers: take payments via Stripe and PayPal, accept credit cards, direct bank transfer, checks or cash on delivery. Compatible with the WooCommerce Stripe Payment Gateway. And a lot more.
AMELIA: APPOINTMENTS WORDPRESS BOOKING PLUGIN
No.1 plugin for booking appointments. Full Amelia plugin pro lifetime license included. You can learn about plugin features and settings on wpamelia.com
SEO Optimized
Proper and complete structured data markup for highest SEO rankings. All information about your content is automatically marked for search engines with no action required.
High Performance Optimized
Nobody wants to wait for a website to load, nobody likes slow websites.
Mailchimp for WordPress
Gives visitors the opportunity to join your list wherever they are on your website.
Contact Form 7
WordPress Contact form 7 is one of the most popular plugins for creating lead generating forms: capture leads and convert them into profits.
Instagram Feed Widget
Embed Instagram feed on your website to increase time on page and drive conversions.
Customizer for Theme Options
It is easy to make global edits to your theme with a customizer for theme options: e.g. if you select a different header style this will apply to all the pages of your site.
Google Fonts
Select from 800+ free Google fonts to make your website special.
Colors
Customization
It is easy to change the color scheme of your site.
Multiple Header Styles
You can choose from multiple header designs to achieve the best look.
Dedicated Documentation
Detailed documentation is available with screenshots and descriptions of how to set up your new website easily.
Other Features
Animated homepages;
Beautiful custom-designed icons;
Parallax effects;
Accordion style FAQ;
Multiple options for Shop Catalogue;
Multiple options for Blog Catalogue;
Multiple options for Contact page;
Multiple options for Gift Cards page;
Multiple layouts for Instagram widget.
Images Included
Almost all images and videos are included in the theme. All images and videos that are included in the theme have licence, that reflects that:
photos can be used for free;
commercial and non-commercial purposes;
no permission needed.
Version 4.3 — May 1, 2023


- Fixed bug of Amelia plugin and Customizer compatibility

Version 4.2 — April 21, 2023


- Included: Amelia Appointments and Events WordPress Booking Plugin

Version 4.1 — January 20, 2023


- Updated: woo-commerce templates

Version 4.0 — August 20, 2022


- Updated: custom Instagram template

Version 3.9 — August 2, 2022


- Improved: WPML functionality

Version 3.8 — July 27, 2022


- Fix: slider styling in Safari browser

Version 3.7 — June 25, 2022


- Updated: WooCommerce templates

Version 3.6. — June 2, 2022


- Fixed: php error
- Fixed: styling in Safari browser

Version 3.5. — March 28, 2022


- Fixed: Elementor register_controls method

Version 3.4. — February 7th, 2022


- Fixed: header animation bug

Version 3.3. — December 1st, 2021


- Improved: style of the sale label in the products slider widget

Version 3.2. — September 29th, 2021


- Fixed: product categories dropdown on mobile

Version 3.1. — September 27th, 2021


- Improved: functionality of the variable product type 

Version 3.0. — September 24th, 2021


- Added: beautiful Coming Soon page 
- Added: feature to change columns number for the shop catalogue (2, 3, 4, 5 columns can be selected) 
- Improved: style of the dropdown in the menu 
- Improved: mega menu, now if there are more than 5 columns in the mega menu, additional columns are displayed underneath 
- Improved: mobile layout of the tabs on Service Menu page

Version 2.9 — September 16, 2021


- Fixed: header menu

Version 2.8 — September 7, 2021


- Fixed: parallax effect in Safari

Version 2.7 — August 17, 2021


- Fixed: button alignment on the product details page
- Fixed: horizontal scroll of the product categories on the shop catalogue page

Version 2.6 — July 14, 2021


- Improved: product categories dropdown on mobile version
- Fixed: small mobile menu bug fix

Version 2.5 — July 5, 2021


- Added: Switch on/off mega menu functionality.

Version 2.4 — July 2, 2021


- Improved: Layout for my account page.

Version 2.3 — June 22, 2021


- Improved: bug at the sidebar shopping bag on mobile (iOS, Safari browser).
- Added: feature to display 3 columns on the shop catalogue page.

Version 2.2 — June 3, 2021


- Improved: contact page payout for mobile in case if there are many locations. 

Version 2.1 — May 18, 2021


- Added: feature to add a line with copyright, text and links under the footer. 

Version 2.0 — May 2, 2021


- Added: feature to add background color for headers
- Added: new Service Menu widget for Elementor, which is faster and allows to upload unlimited number of sub-items
- Added: feature to switch between Map Box map and Google Map on Contact pages
- Added: png and img upload for the Service Menu icons
- Added: beautifully styled toast messages
- Fixed: team widget bug on the Team page
- Fixed: removed white background under the footer on 404 page on large screens 

Version 1.9 — February 13th, 2021


– Ability to add up to 20 FAQ per each tab on the FAQ page
– Unlimited number of social media icons for header and footer. Font awesome icon library added.
– Small fix for WPML compatibility. 
– Small updates for Elementor blocks to add more customisation possibilities.

Version 1.9. — January 9th, 2021


– Small bug fix: shopping cart on the shop categories pages.

Version 1.8. — January 6th, 2021


– Small bug fix, testimonials section.

Version 1.7. — January 4th, 2021


– Added compatibility with the WooCommerce Stripe Payment Gateway.
– Registration & Login Forms have been styled.

Version 1.2. — December 18th, 2020


– Added ability to create more categories and subcategories on the Service Menu page.
– In case if there are more than 6 product categories in the shop, dropdown instead of tabs will be shown.
– Fixed the preloader and Elementor conflict.
– Only main categories will be shown on the Catalogue page of the shop.

Version 1.1. — December 10th, 2020


– Preloader feature added.
– New version of Appointments page added.
– Added compatibility with Complianz – GDPR/CCPA Cookie Consent plugin.
– Fixed icons scroll on the Services page.
– Envato Market plugin added for quick updates of the theme right from the admin panel.

提示:这篇文章发布于 2023/05/07,作者 99839,总计 6910 字.